SOLE and Shoe Mill: Introducing the Cork footbed collection!
Our most eco-friendly footbeds ever, made possible by Shoe Mill.
At SOLE and ReCORK we love nothing more than working with like-minded people. Family-owned footwear retailers Shoe Mill are exactly such a company. They believe in sustainability, and even better, they're willing to act to bring about environmentally conscious improvements in our industry. When they saw what we were doing with ReCORK, recycling natural wine corks into carbon-negative footwear products, they were inspired to invest in the most eco-friendly insoles that have ever been created: the SOLE Cork footbed collection.
The Cork footbed collection is our first footbed made with a cork fabric topsheet. The cork fabric adds yet another eco-friendly element to complement our tried and tested recycled cork footbed base. Just like wine corks, this cork fabric is made from the bark of cork oak trees. Cork oaks are sustainably-harvested without being cut down. Each time they're harvested, their carbon absorption increases by up to five times, with all that carbon being trapped in the bark they regrow. With the addition of this natural topsheet, each Cork footbed has even more carbon from the atmosphere locked away in its material. The result is a product that's incredibly eco-friendly, taking far more carbon from the atmosphere than its production adds.
Not only is the cork topsheet an eco-friendly improvement, it also adds a more luxurious look and a softer suede-like feel that's great against the skin. With cork's natural moisture-wicking properties this is the perfect insole for people who like going sock-less in their shoes. We've always said that cork has incredible potential for doing the same jobs that synthetic materials do, and doing them better. Now, with Shoe Mill's investment in our mission, we've shown again that sustainability doesn't have to come at the cost of comfort or quality. In fact, these are both the most eco-friendly AND the most luxurious footbeds we've ever made.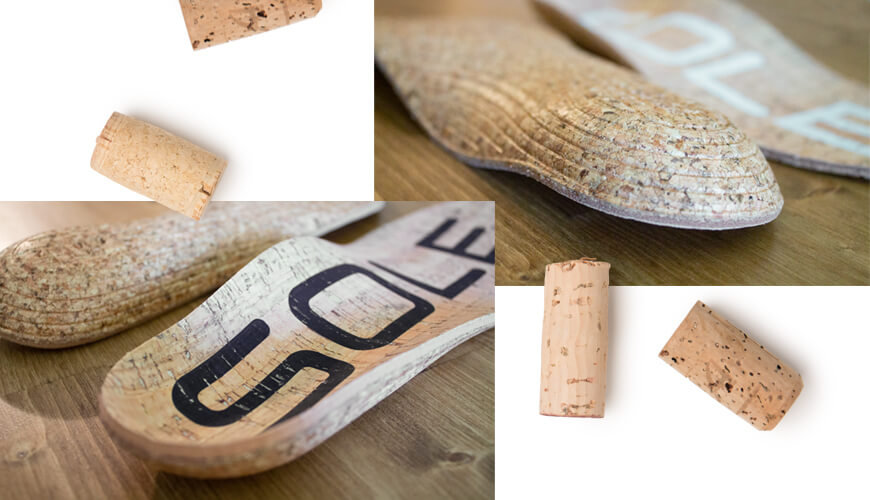 The Cork footbed collection features a base made from recycled natural wine corks.
Of course, the Cork collection isn't just luxurious. The recycled cork base provides all the custom moldable support you need for staying injury free during high performance activities. It wouldn't be a SOLE footbed without our signature shape and all the elements our customers have come to know and trust. The Cork collection is fully heat and wear moldable and comes in Thin, Medium and Thick volumes so there's an option to fit every shoe. There's also a Medium with Met Pad version that's perfect for people suffering with forefoot ailments like metatarsalgia and Morton's Neuroma.
When we partner with companies like Shoe Mill it makes us optimistic about the future of footwear, and the positive impact that we can have on the industry. When people and companies with similar priorities and values come together it greatly increases our potential and ability to do good. We encourage you all to support this new project at shoemill.com.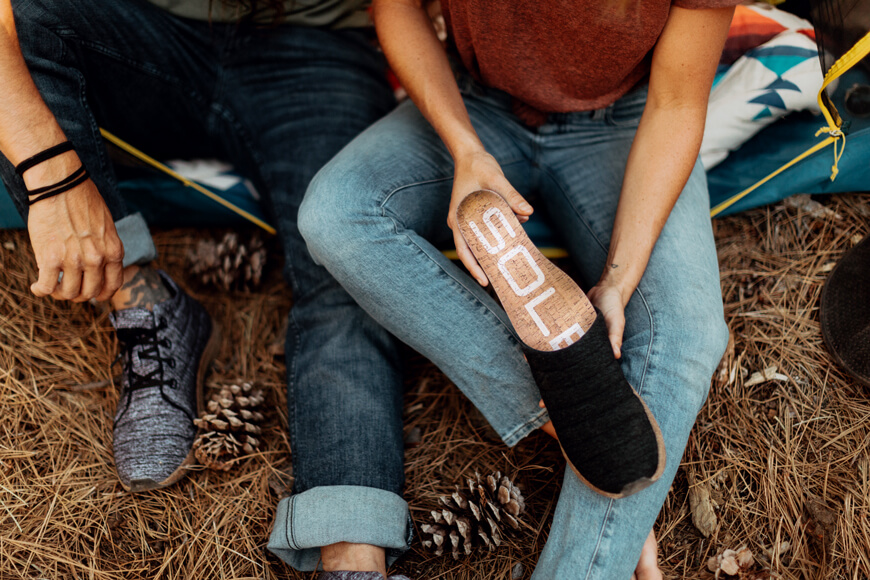 The Cork footbed collection is the ideal addition to breathable sock-less friendly footwear.
The Cork Thin offers low-profile support with no foam cushioning, perfect for dress shoes, skates, ski boots, skate shoes, flats, and other snug fitting footwear.
The Cork Medium has 1.6mm of Softec foam cushioning and works great in most regular-fitting footwear like sneakers, running shoes, tennis shoes, light boots and other casual footwear.
The Cork Thick has 3.2mm of Softec foam cushioning to add maximum cushioning comfort to work boots, hiking boots, looser-fitting running shoes and other shoes with removable factory insoles.
The Cork Medium with Met Pad offers all the versatility of the Medium footbed, with the added support of a metatarsal pad to look after your forefoot comfort.