This Earth Day, be a digital activist in isolation.
A guide to getting involved in Earth Day 2020 from your home.
April 22 is Earth Day. This would usually be an opportunity to take to the streets or attend events, gathering in our masses to make our voices heard on the urgent need to tackle the climate crisis. This year, of course, is a little different. Being on lockdown thanks to COVID-19 is forcing us to adapt by adopting digital alternatives to our regular activities. We have business meetings in video chats, drink beers together in digital bars, play digital games, take digital classes, and follow digital workout routines. So why should environmental activism be any different?
But does the climate really matter right now? Yes. In fact, it's never mattered more. While the world's attention is focused on the coronavirus it has never been more important to remind each other, and our leaders, that we have to take urgent steps to protect our environment. It's completely appropriate for the focus of governments around the world to be placed squarely on saving lives in the face of the terrible threat that is coronavirus. But it's equally appropriate for the citizens they're trying to protect (that's you) to shine a light on issues that pose longer-term threats to our wellbeing, especially when the threats to our climate are the very same things that make us vulnerable to threats like COVID-19. Read on for some suggestions of how to practice digital activism in isolation this Earth Day.
Check out Earth Day's Vote Earth initiative.
Climate change shouldn't be political. Something that's established scientific fact shouldn't be a matter of opinion or ideology. Unfortunately positions on climate action have been tied to political interests and while climate-smart individual action matters, influencing your political leadership can have the biggest impact of all. If you give two hoots about being led by people who recognize scientific fact for what it is, make sure your voice is heard. This one is particularly relevant to our readers in the US: make sure you're registered to vote and if you like, pledge to 'Vote Earth'.
Join the digital #climatestrikeonline
You think a little global pandemic is enough to keep Greta and the gang down? Think again. They say if it's not on Instagram it didn't happen, and when it comes to joining the climate strike this year, that might actually be true. Post images with your messages on social media, and help flood the internet with people who care about the planet. We're not totally sure if all politicians check Insta, so you better post to twitter too, just in case 'anyone' doesn't get the message.
Take the climate quiz.
Knowledge is power, people. Take the climate quiz on the Earth Day site. You'll almost certainly learn something, but even if you don't, you'll get some important reminders. Once you've taken the climate quiz, take the clean energy quiz too, and be sure to read the explanations to the correct answers: that's where the real learnings lie.
Get serious about where your money is going.
Many of us are dealing with financial uncertainty. We're paying more attention to where and how we spend our money, but what about where we save our money? What does your bank do with the money you entrust it with? Is your money being used to fund and invest in the fossil fuel industry? Check out the Rainforest Action Network's Fossil Fuel Finance Report 2020 to find out. If it is, consider getting in touch with your bank to let them know it's important to you that your money is used in an environmentally responsible way. You could even consider changing who you bank with entirely, to an institution that cares more about the long-term future of the planet.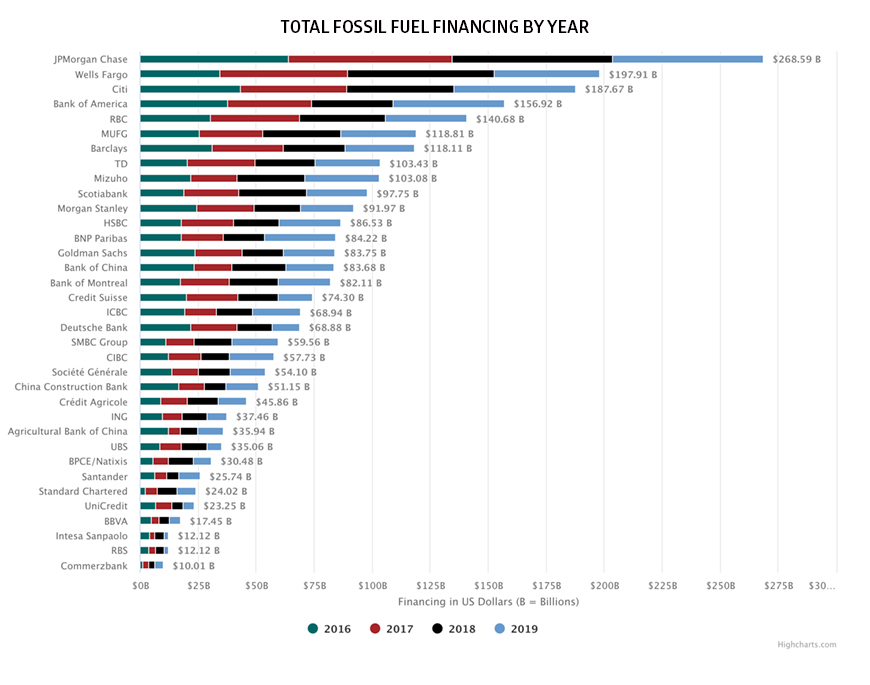 Activism through action.
Think seriously about how you can minimize your own impact. Two crucial things to consider are traveling smarter and eating plant-based more regularly. The transport industry is the single biggest greenhouse gas emitter in the United States. If you're one of the lucky ones that's managed to keep their jobs, there's a good chance you're working from home. So how badly do you need to go into the office everyday really? When things go back to normal, think about cutting your commute to only a couple of days a week, and when you do travel, try to do so smartly. Walk, bike or take public transit.
As for eating plant-based, take some time on Earth day to figure out what impact your diet has (there are numerous easy-to-use calculators ), and make a plan for how to cut that down. It's a simple change that anyone can make that will have a direct effect on cutting down your personal carbon footprint.
Be part of the #EarthRise movement.
Follow along with the multiple online events happening on Earth Day Live and feel part of a community doing essential work to speak up on behalf of our planet.
However you decide to be a digital activist this Earth Day, do so proudly. It's unclear how long it will take for life to return to something like normal after the coronavirus, but it will. And when the dust settles we'll be left to deal with what remains the biggest threat to human health and happiness.

The first photo of Earth from the moon was taken on August 23, 1966. Seeing our planet from this new perspective, suspended in space, inspired many to look at the Earth in a new way, appreciate it for the one home we have, and take care of it. Image: NASA