Finally sandals that are actually
good for your feet.
These are no ordinary sandals. Flip flops as most people know them are flat, flimsy and totally lacking in support. You have to grip your toes and strain your feet to keep them on, and even the shortest stroll leaves feet fatigued. This is the sandal status quo, and at SOLE we just don't get it. Your feet aren't flat, why should your flips be?

For too long people have sacrificed their foot health for the sake of a breeze between their toes. The human body is an intricate system, with its foundations in the feet. The positioning and support of your feet can have far-reaching effects throughout your body. It's time for flips that feel as good underfoot as they look.
Sole's Signature Shape
Customizable
Medically Accepted
Clinically Proven
All SOLE sandals are designed with the same signature shape featuring a supportive arch, deep heel cup and a wear-moldable base. The result? The most comfortable sandals you've ever owned, that are actually good for your feet.
With different levels of firmness, strap widths and materials varying from ReCORK recycled cork to algae-based Bloom Foam and EVA, there is a SOLE sandal that will perfectly suit your needs.
SOLE sandals mold to your feet in a few days of wear, for customized support right where you need it. The signature supportive shape is proven to improve balance, posture and stability while reducing strain and preventing injury. Unique features of the footwear include a metatarsal pad for an added level of forefoot support and increased toe circulation, a deep heel cup that prevents overpronation and supportive, yet flexible arch that prevents excessive arch strain.
Deep heel cup Cradles the heel's natural cushioning and helps prevent lateral movement.
Accommodative arch support Supports the arch to prevent weakening while allowing the foot to move naturally.
Metatarsal support padRelieves pain and pressure in the ball of the foot and increases circulation in the toes by supporting and lifting toe bones into a natural resting position.
Wide ForefootSpacious forefoot allows the foot to spread out and recover its natural shape.
Moldable orthopedic baseMolds to the shape of your foot for customized orthopedic support, where you need it most.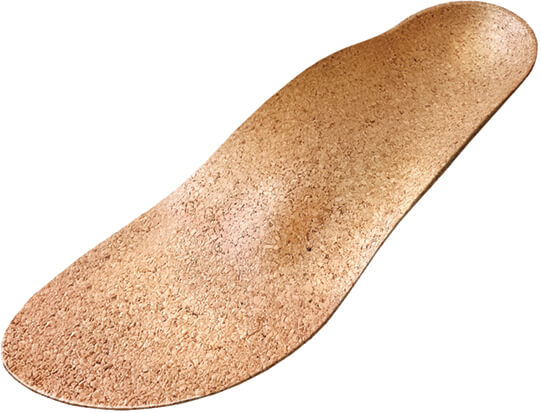 Why orthopedic shape?
The foot is an incredibly complex extremity made up of a network of 26 bones, 30 joints and many tendons, ligaments and muscles that must all work together in harmony to function properly. Without proper orthopedic support, feet can become quickly fatigued, causing overuse injuries and weakening of the arch, leading to pronation, supination, nerve damage, inflammation, and most often, plantar fasciitis among other painful orthopedic issues.
Supination
The ankle rolls outward after landing causing extra stress on the foot.
Pronation
An unsupported arch allows the ankle to roll inward after landing, causing strain.
Aligned
SOLE footbeds support the entire foot, reducing strain and related problems.
SOLE SANDALS
SOLE sandals offer warm-weather comfort in a variety of styles and materials to suit every taste and setting. Our flips and slides built on a two-part Sport platform give easy breezy industry-leading orthopedic support, while our low-profile flips provide comfort far beyond what you'd expect from their casual summer style. The different platforms combine with strap materials varying from athletic engineered-knit and nylon webbing to luxurious leather and synthetic nubuck so you can find your perfect combination of function and fit. With sustainable materials like Bloom Algae Foam and ReCORK recycled cork, your new favorite flips have an eco-friendly edge to boot.
SOLE footbeds are accepted by the American Podiatric Medical Association.
All SOLE footbeds are heat/wear moldable for custom comfort.
Clinically proven to reduce plantar fascia strain by one third.
Select styles feature Polygiene® odor control technology.