Cure Plantar Fasciitis with Custom Moldable Orthopedic Insoles
What is Plantar fasciitis?
Plantar fasciitis is one of the most commonly experienced foot afflictions. The most common symptom is feet that hurt near the heel, or the where the arch meets the heel, and it's often worse in the morning or when getting back on your feet after long periods of rest. It might ease up once you get moving initially, but then gradually worsen during the day. If this sounds familiar, you're not alone. As many as 10% of adults experience plantar fasciitis and while it can have many causes, it's particularly common in older adults, runners and people who work long hours on their feet or carry heavy loads.
Plant a what now?
Like tonsillitis or appendicitis, plantar fasciitis gets its name from the affected area of the body: the plantar fascia ligament. It's a thick band of tissue that spans from your heel to your toes, supporting your foot's natural arch and carrying the load of your regular activity. Repetitive strain and stress on this ligament without proper support can cause damage to the ligament, resulting in the painful condition that affects so many people.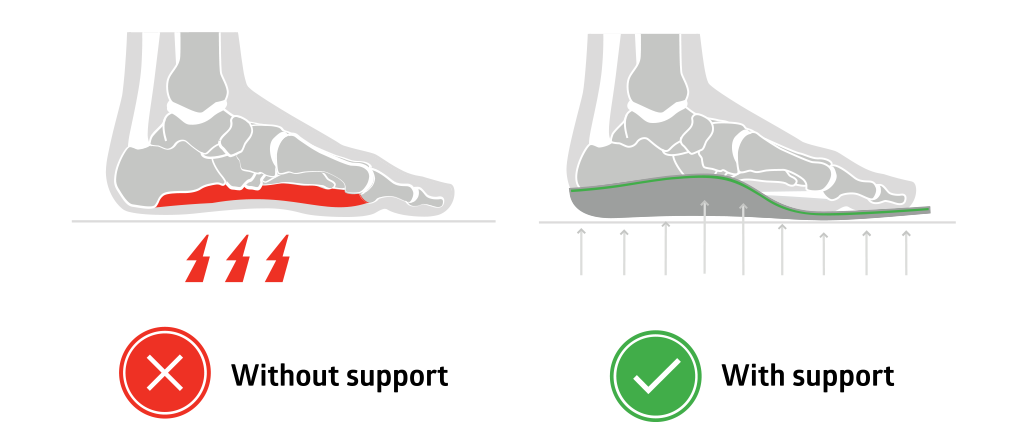 So is there a solution?
Yes! Plantar fasciitis treatment starts with having the right support to allow you plantar fascia to heal while preventing further injury. When you have proper arch support underfoot you give your feet the help they need to do their daily work, lightening the load on the plantar fascia and allowing it to recover from the damage caused by excessive strain. While many people look for specific shoes for plantar fasciitis, you can add the arch support you need to any pair of shoes by wearing supportive orthopedic insoles. Having correct support will also help prevent the onset or recurrence of plantar fasciitis by avoiding excess strain and damage in the first place.