Orthopedic Insoles for Correcting Overpronation - SOLE
What is pronation?
First things first: pronation is not necessarily a bad thing. It refers to the way your foot rolls inward to distribute impact on landing. Neutral pronation is crucial to proper shock absorption as you walk and run. But you can have too much of a good thing, and when your foot rolls in too far it's known as overpronation.
What's the problem with overpronation?
Overpronation of the foot occurs when your weight rolls onto the inner edges of your feet and your ankles roll inwards after landing, causing strain. If the mechanics of your foot are a little bit off, it can throw off the alignment of your entire body. Excessive pronation of your feet is quite common but if untreated can lead to degenerative wear and tear and chronic discomfort and pain in the knees, hips and back. It also makes runners and people who have flexible, flat feet more prone to fatigue and overuse injuries. The result can be a range of conditions like shin splints, plantar fasciitis, heel spurs, metatarsalgia, post-tib tendonitis and bunions.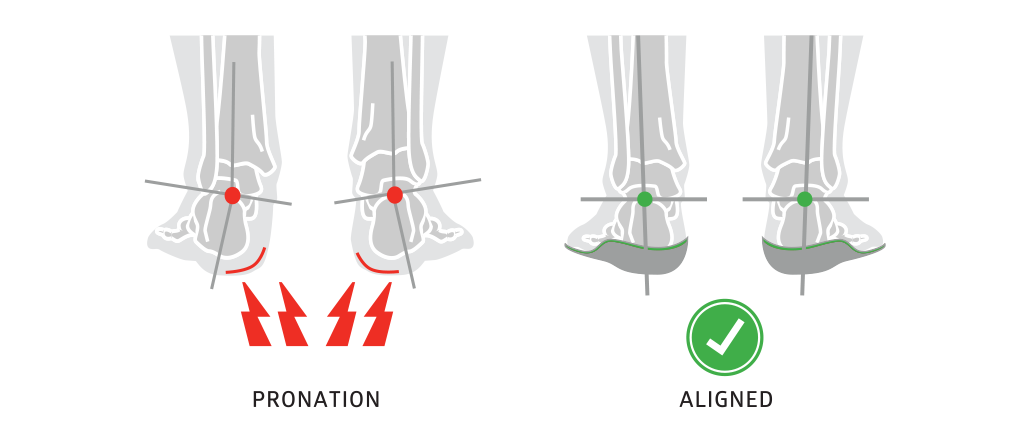 So what's the solution?
Orthopedic insoles help correct pronation by preventing your foot from rolling too far inward and placing excessive strain on your ankles, by supporting your feet from beneath and equally distributing pressure across your foot. Insoles also help to ensure that your alignment remains neutral so that the complex machinery of your feet and ankles are working at optimum efficiency, giving your body a stable base and preventing alignment issues in your knees, hip and spine. While many people, especially runners, search for a specific pair of shoes to help pronation, you can add the support you need to correct pronation to all of your shoes by purchasing affordable insoles that can be moved from one pair to the next.