Join the cork revolution: sign your business up as a ReCORK Partner.
An easy way to make your business a little greener.
We know how tough it is to run a business. Consumers need satisfaction, shareholders need profits and employees need a holiday. So where do you find the time to solve the problem of an overheating planet? At ReCORK we believe it shouldn't have to be difficult for businesses to make a real difference in their world.
In fact, we believe it should be as easy as popping a bottle of red and putting your feet up. That's why we're invested in a humble material with huge potential: cork. Wine corks are made from the bark of cork oak trees. Cork oaks are excellent carbon sinks, and the process of harvesting their bark not only prolongs their lives, it actually increases their carbon consumption. What's more, cork's versatility makes it ideal for replacing many harmful petroleum-based materials in consumer-products. All this makes cork one of the most sustainable and environmentally-friendly materials available. (Learn more about the wonders of cork here).
At ReCORK, we believe it shouldn't have to be difficult for businesses to make a real difference in their world.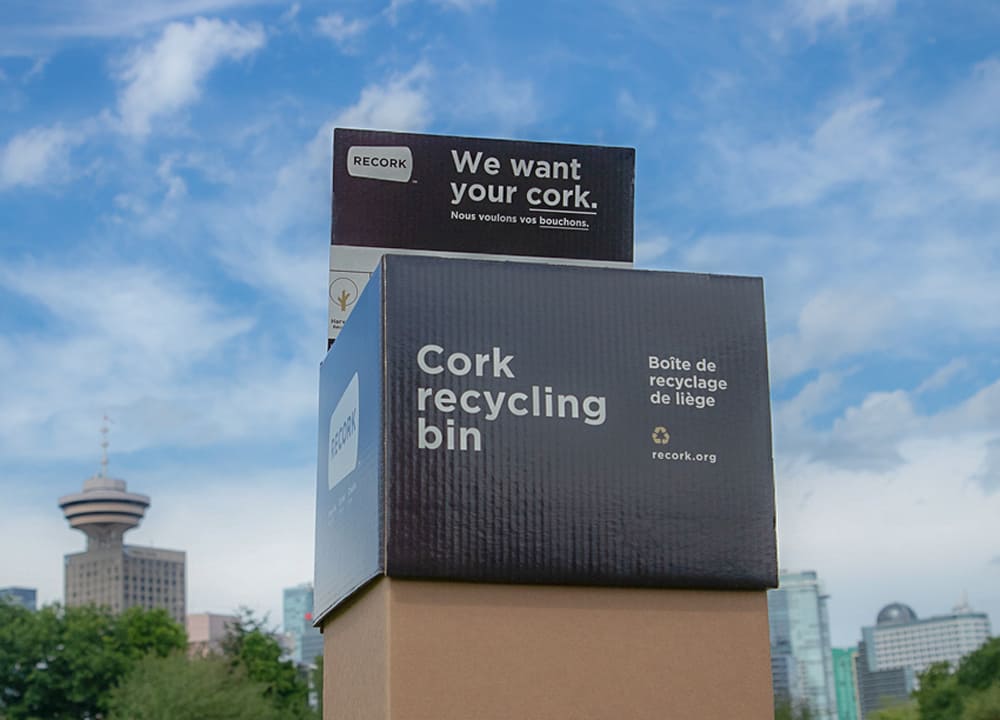 At ReCORK we want to keep wine corks out of landfills, and put them into the products consumers love. We've worked with partners across North America to collect more than 100 million natural wine corks which we grind down and recombine to form a beautiful, moisture-wicking, naturally rot-resistant, cushioning, moldable raw material. This versatility has allowed us to use cork with great success in SOLE's footbeds and footwear but we're ready to ramp up production, and we need your help.
We're looking for business partners to act as cork-collection outposts, extending our continent-wide network of cork collection points. Own a restaurant? Don't throw out your corks, let us take them off your hands. Own a liquor store? Ask your customers to bring their corks back the next time they visit. Own a boutique cheese store? We'd be willing to bet your customers enjoy wine too, why not get involved? We'll provide marketing materials to let the public know that by supporting your business, they're supporting the environment. Find out which ReCORK partnership will suit you best, and get in touch today to become part of an exciting movement to make a real difference in a really easy way.