Supportive insoles with a built-in metatarsal pad: introducing the Performance Medium with Met Pad
SOLE orthopedic insoles designed to offer relief from forefoot pain and metatarsalgia.
Introducing a footbed with a humble bump that can make a huge difference. The SOLE Performance Medium with Met Pad includes a metatarsal pad to support the bones in your feet, promoting their natural positioning, increasing circulation and preventing pain and discomfort associated with common forefoot conditions.
While all our footbeds work to protect the many interrelated and intricate mechanisms of your feet, some conditions require a simple modification with a powerful impact to be dealt with as directly as possible. One such condition is metatarsalgia: pain and inflammation in the ball of your foot, often associated with aggravation around the metatarsal heads, where your foot bones meet your toe bones (read more about metatarsalgia here). The most direct solution for metatarsalgia is to add a met pad to your footwear: a simple supportive mound that's strategically placed in the right spot toward the centre of the footbed.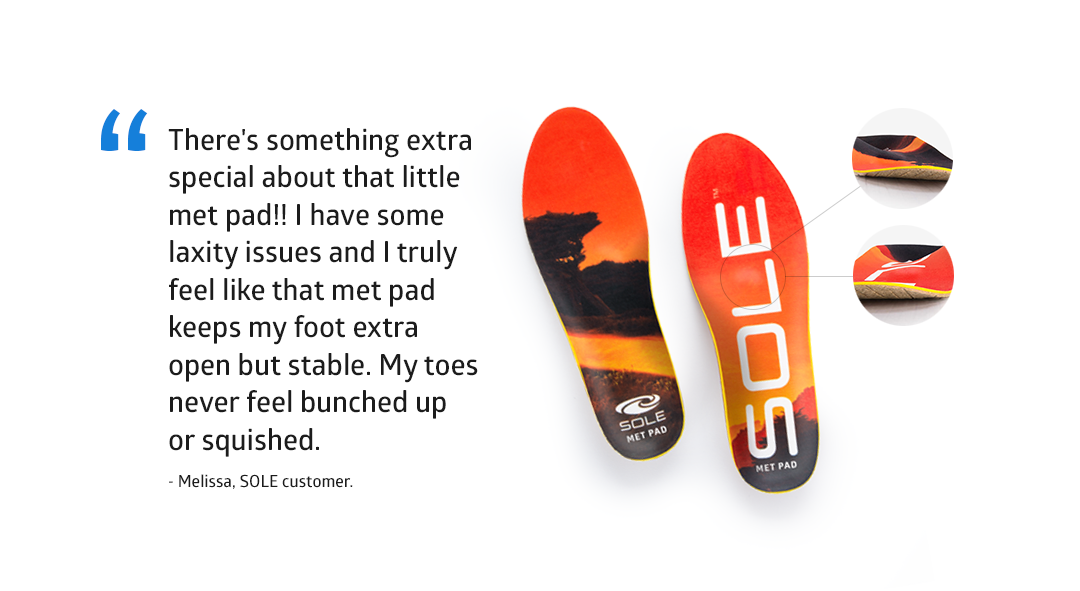 Did you know your foot has more than one arch?
When we talk about the arch of your foot, most people immediately picture the longitudinal arch, that lifts between your heel and the ball of your foot. A healthily functioning foot also has a transverse arch: a more subtle rise that arches across the foot from one side to the other. Supporting the transverse arch with a metatarsal pad can have a range of positive results, just like supporting the longitudinal arch with what we commonly think of when we refer to 'arch support'.
So what exactly are these positive results?
By supporting the metatarsals in a natural transverse arch, the met pad helps maintain the natural spacing of the bones, preventing them from becoming cramped. It also helps to promote the natural positioning of the padding under the ball of your foot, optimizing your shock-absorbing tissue to prevent your feet from taking excess stress. Lastly, a met pad helps to ensure that pressure is efficiently distributed and that no one point of your foot is carrying more weight than it can handle.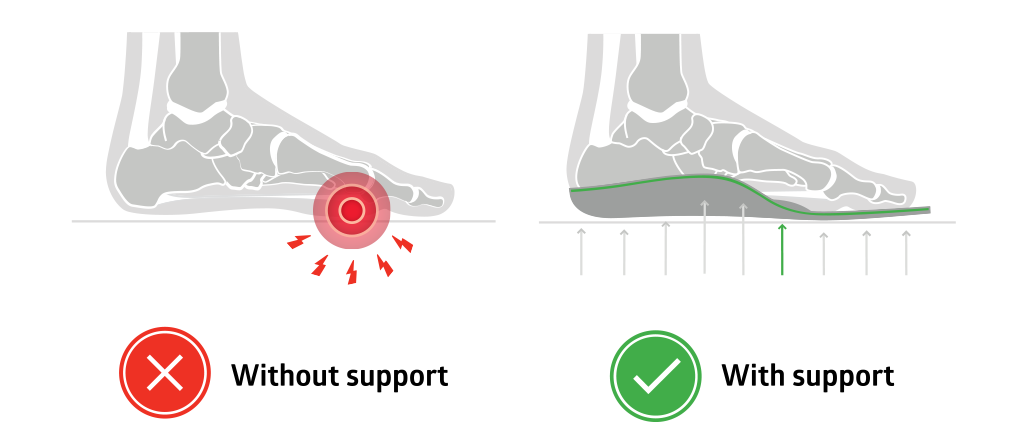 Is the met pad right for me?
If you suffer from pain in the ball of your foot, then Performance Medium with Met Pad is definitely worth trying. It's also popular amongst athletes who put their feet through a lot of high-impact activities which can cause excess stress on the metatarsals. Like all our footbeds, the Performance Medium with Met Pad offers all the industry-leading support our customers have come to know and love, meaning you have nothing to lose as the met pad doesn't detract from the signature SOLE shape. These footbeds are also custom-moldable to fit your unique feet and give them the best support exactly where they need it.
Performance for good.
Like all our Performance line footbeds, the Performance Medium with Met Pad is made from natural wine corks, recycled by our recycling program ReCORK. This material custom molds to your feet particularly well in both the heat molding and wear molding processes. Recycled cork is also the most sustainable material we can imagine, and ReCORK's operations remove more carbon from the atmosphere than they add to it. Lastly, with the purchase of each Performance footbed SOLE gives $1 to our GIVE BACK program.