THE MOST EFFECTIVE ORTHOTIC INSOLES…
OR YOUR MONEY BACK!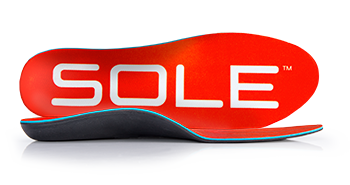 The perfect amount of support exactly where you need it. Try yours with confidence today with our 90 day comfort guarantee.
SOLE insoles are clinically proven to be the most effective over-the-counter orthotic insoles on the market, helping your feet carry their load, eliminating pain, reducing fatigue and preventing injury. Their custom-moldable design gives you all the benefits of personalized support at an affordable cost.
Thin
No Softec cushioning

Shop Thin footbeds
Ideal for tight-fitting, low profile footwear with thin or no factory insoles such as slim-fitting dress shoes, casual shoes, slim running shoes, cycling shoes, cleats and ski boots.
Medium
1.6mm Softec cushioning

Shop Medium footbeds
Ideal for most average-volume footwear and shoes with standard factory insoles such as running shoes, sneakers, basketball shoes, tennis shoes, loafers and casual shoes.
THICK
3.2mm Softec cushioning

Shop Thick footbeds
Ideal for footwear with wiggle room, thick factory insoles and a wider shape such as trail/hiking boots, work boots, loose-fitting running shoes and winter boots.
I have really extreme over-pronation, low arches, shin splints and I play tennis and football for my college. For the last two years every practice and game had been a nightmare and I had to take four or five painkillers just to make it through. I replaced my prescription orthotics with SOLE footbeds and miraculously had no pain almost instantly! These things are great and have me saying goodbye to the podiatrist and looking forward to practice!
—JAY, user testimonial
SOLE simply changed my life! I spent hundreds of dollars on orthotics, none worked out for me and they were a waste money. I was suffering from plantar fasciitis for a couple of months, running and doing exercises were becoming difficult and painful. After purchasing your products, I'm hitting the gym and trails everyday and I don't feel any pain in my feet. Thank you for designing such an awesome product!
—JAHANGIR, user testimonial
SOLE footbeds have corrected my plantar fasciitis, therefore my knees and my back. I am a 46-year-old father of a two and one year old. I've just run a half marathon and can pick up my two young children and dance them to sleep. My children are happy because I am mobile and they have my full attention and I'm happy because I can run six days a week with no pain. SOLE footbeds might have saved my life.
—IAN, user testimonial
These last few months I've been experiencing the worst shin splints ever and plantar fasciitis every time I played basketball. I just played my first game last week with SOLE footbeds and the difference was night and day. I used to want to get off the court every two minutes but now I feel like I could play forever.
—MATHEW, user testimonial
Prior to using SOLE footbeds I was experiencing leg and knee pain after running long distances. A month after using them I ran in a half marathon, set a new personal record and wasn't even sore the next day! This year I am ready to take my running career to a whole other level by running with SOLE footbeds.
—DYLAN, user testimonial
SOLE footbeds are accepted by the American Podiatric Medical Association.
All SOLE footbeds are heat/wear moldable for custom comfort.
Clinically proven to reduce plantar fascia strain by one third.
Select styles feature Polygiene® odor control technology.