Cure Metatarsalgia with Orthopedic Insoles with a Metatarsal Pad
What is metatarsalgia?
The metatarsals are the five bones that connect the middle of your foot to your toes. The points at which the metatarsals meet the phalanges (toe bones) are known as the metatarsal heads; you can think of them like the first knuckles of your feet. They're right above the fleshy pad of the 'ball' of your foot. This area is particularly susceptible to extra strain and pressure that can cause inflammation and pain commonly referred to as metatarsalgia. There are multiple possible causes, from biomechanical issues, specific foot shapes and problems with weight distribution, to wearing tight shoes that cramp metatarsal heads where blood vessels and nerves are squeezed and constricted. Another common cause is when your second toe is longer than your big toe, putting extra stress on your second metatarsal. People who play high impact sports and runners are particularly at risk, as their feet take a lot of strain in their regular routine.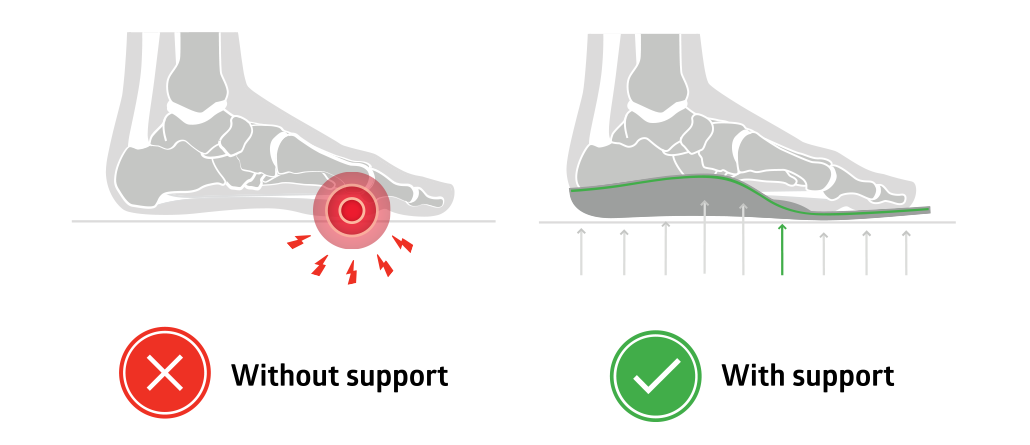 So what's the solution?
You can get relief from metatarsalgia by adding a metatarsal (met) pad to your footwear. A met pad supports the metatarsals in their natural position and spacing, preventing them from becoming cramped, especially in the metatarsal heads. It also helps to promote the natural positioning of the padding under the ball of your foot, optimizing your natural shock-absorbing tissue to prevent your feet from absorbing excess stress. Lastly, a met pad helps to ensure that pressure is efficiently distributed and that no one point of your foot is carrying more weight than it can handle. One option for met pads is to add supportive insoles that include a met pad to your footwear. Supportive insoles help the feet carry the load and distribute pressure evenly, offering relief to people who suffer from metatarsalgia as well as plantar fasciitis or other foot injuries. Runners with metatarsalgia are particularly likely to benefit from supportive insoles with metatarsal pads as they will also help promote a neutral alignment and maximize biomechanical efficiency through each stride.