Orthopedic Insoles for Supination: the Problem and the SOLE Solution
What is supination?
Supination occurs when your weight rolls onto the outer edges of your feet as you take a step. In a normal step, your foot should roll inward a small amount (pronate) so that your weight is on the ball of your foot, allowing you to push off from your big toe. When you supinate, the ankle rolls outward after landing, causing extra stress on the foot. Supination is commonly a result of genetics but can also be triggered or worsened by muscle imbalances in the foot, ankle and lower leg.
Why is supination a problem?
The body is a complex interlinked system that starts at the feet. When your weight rolls outward not only do you put stress on vulnerable parts of your feet and ankles, it can also have far more far-reaching adverse affects. If the mechanics of your feet are a little bit off, it can throw off the alignment of your entire body. Excessive supination can cause ankle pain, plantar fasciitis and stress higher up the body leading to knee pain, hip pain and even back pain. The detrimental effects of supination can be particularly severe for runners who put their lower limbs through repetitive strain.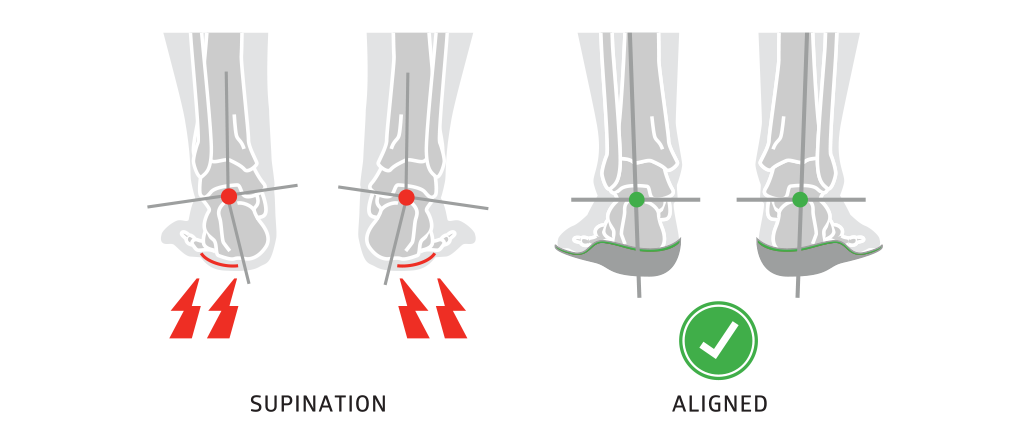 So what's the solution?
Supination can be corrected with orthopedic insoles that help prevent your foot from rolling outward, placing excessive strain on your ankles. Insoles do this by supporting your feet from beneath and equally distributing pressure across your foot while ensuring that your alignment remains neutral so that the complex machinery of your feet and ankles are working at optimum efficiency. This stable base helps prevent alignment issues in your lower legs and beyond, as far as your knees, hip and spine.