Meet Eryn Krouse: SOLE ambassador and conscious adventurer.
Model, surfer, lifeguard, college graduate and all-round powerhouse.
At SOLE and ReCORK we get to work with some truly awesome people. From those leading the charge in environmental activism, to designers at the cutting edge of their trade, to people like Eryn Krouse, whose work ethic, initiative, hustle and infectious enthusiasm are matched only by her undeniable natural beauty. She's a competitive swimmer, surf and swimsuit model, surfer, LA county ocean lifeguard, blogger, vlogger and content creator. Oh, and she recently graduated from UC Santa Barbara. Casual.
We were lucky enough to spend a few days working with Eryn on our Spring/Summer 2019 sandals shoot in California. After all was said and done we took the chance to get to know her a little better and find out what being a conscious adventurer means to her.
THE LIGHTEST TREAD (TLT): For starters, what did you study at UCSB?
ERYN KROUSE (EK): Linguistics with a focus on Language, Culture and Society. My favorite classes included Russian literature (Dostoevsky), the geography/history of the Channel Islands, Oceanography, and Language Acquisition.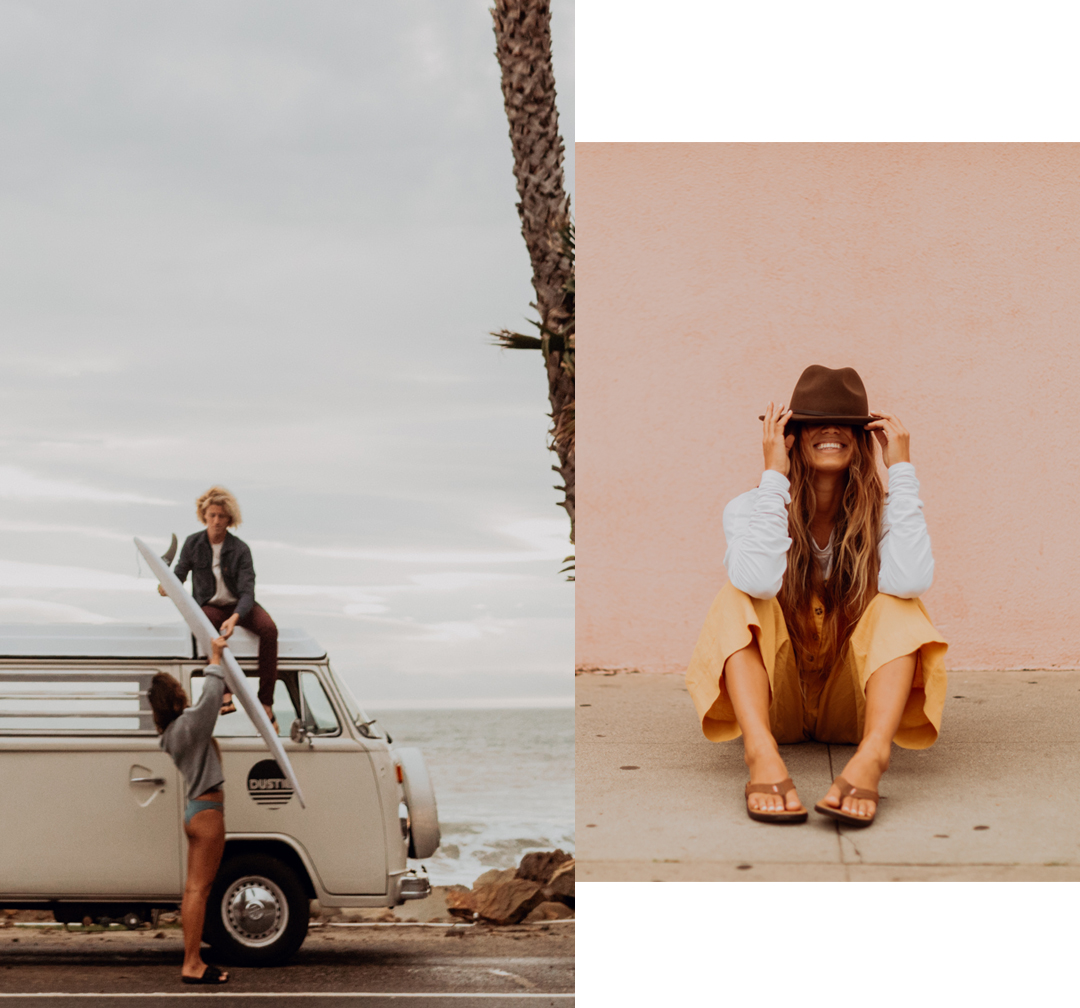 TLT: The natural world has obviously has a big impact on your life and career - tell us a bit about that, and your relationship with the ocean.
EK: I grew up as a competitive swimmer from the age of 6 to 20 years old. During that span of time, I got introduced to surfing and my love for the ocean began. Since then, the ocean has been a central part of my lifestyle. My jobs as a surf/swimwear model and ocean lifeguard involve being in the ocean or at the beach constantly, and I travel the globe chasing waves.
(Check out our water-friendly Balboa Flips.)
Being outside is therapeutic and invigorating and so so so essential for us. I find that whenever I feel like I'm in a funk or a bad mood, I just need to spend more time outdoors.
TLT: If you could change one thing about the way people experience the natural world around them, what would it be and why?
EK: I would want people to be respectful and humble, but also to enjoy their surroundings and spend as much time in nature as possible, whether it be in the ocean or in the mountains (or anywhere else). Being outside is therapeutic and invigorating and so so so essential for us. I find that whenever I feel like I'm in a funk or a bad mood, I just need to spend more time outdoors.
TLT: You obviously travel a lot: where is your favourite destination? And are you happier on the road, or does a part of you always long for Cali?
EK: Some locations that really stood out to me were the Maldives, Alaska and Australia. I just love the untouched aspect of each of these places, and how naturally beautiful they are. A part of me always longs for those warm, summer days back home in California (what could be better than that?), but right now I have this undeniable urge to see the world and experience as many places as possible. I like traveling knowing that home will be there waiting for me.
TLT: What steps do you take to minimize your environmental impact, and what advice would you give others who are looking to do the same?
EK: I try to stay away from single use plastics as much as possible. I use my Hydroflask to refill water instead of buying plastic bottles, and I also recently purchased a no-plastic beauty kit at a farmer's market in Australia that came with a bamboo toothbrush, tablet toothpaste, and lotion/shampoo bars. I'd urge people to be conscious of their waste and plastic use and to limit it as much as possible. I'm far from plastic free, but I've been making a conscious effort for a while now to limit my use.
TLT: How important are brands' environmental initiatives or track record to you?
EK: Extremely important! I love when brands use compostable bags as mailing materials and recycled/recyclable containers. Sustainable fabric in clothing is great, too.
TLT: Do you have any gear that you ALWAYS take with you on adventures/travels?
EK: My GoPro is an adventure must-have. It's small and always gets the shot. If I'm going on a trip where I can bring a lot of baggage, then I bring my whole camera set-up including my water housing, canon DSLR, tripod, drone, vlog camera, and laptop. On a surf trip, I also bring my surfboard, snorkel mask and fins.
TLT: What does being a conscious adventurer mean to you?
EK: The special thing about traveling as a surfer is that in a way, I have a purpose to my travels. I travel to not necessarily be a tourist and do all those touristy things (which is totally fun), but to admire new surroundings- the people, culture, and environment (especially the waves). I find that I learn a lot about myself as well as other ways of living, and what better way to connect with the locals than to have fun together in the water?
Check out Eryn's latest video featuring the Santa Cruz Flip!