Meet Paul, SOLE's resident words guy.
Get to know the people behind SOLE.
Paul came all the way from Cape Town, South Africa to chase the dream of snowboarding all winter and enjoying 'boozy freezies' watching the sun set on nudist beaches in the summer. He gets separation anxiety when he's too far from his water bottle and he'd rather bike or walk than take the bus. Paul recently received his Canadian Permanent Residency but he still makes mistakes like calling hockey 'ice hockey' and he has no idea who Mr. Rogers is. You may have seen him hoarding footbeds in a SOLE email or on our social feed. In this, the first of a series of Q&A's with the people of SOLE, you'll get to know Paul a little better.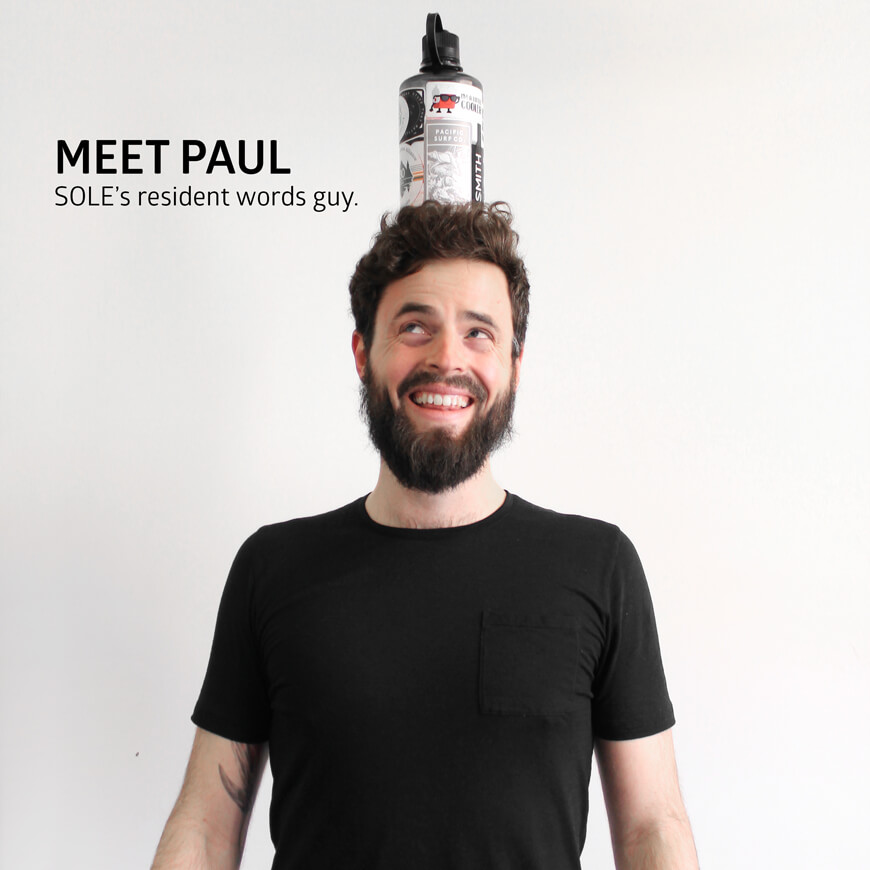 Paul's trusty Nalgene is never far from his side.
Name and Role at SOLE
I'm Paul Maughan-Brown (you don't say the GH, it's pronounced like 'morn' and yes, it's a huge pain in the A). I'm the content manager and copywriter for SOLE and ReCORK, based in Vancouver, BC.
When did you start working at SOLE?
August 2018.
What does your job involve?
I'm the words guy. I write most of the copy that you'll read on any SOLE platform, including emails, ads, workbooks, the website and the blog. Yes, that means this article is essentially me interviewing myself. It's weird. I also deal with ambassador and athlete sponsorships and the social media content. I even do my bit as an in-house 'model' which usually involves a hand or foot, but occasionally I get turned into a goofy gif.
Tell us a random fact/story about yourself.
I once helped save a drowning rhino by pulling it out of a river with a rope (I moved to Canada from South Africa two years ago). It happened while I was directing a wildlife TV shoot. There was a lot of tranquilizer involved, administered by a vet who, in retrospect, might have been a little trigger-happy on the dart gun. When transporting a massive animal with a sharp horn you want to make sure it's as mellow as possible. Things got tricky because this particular rhino was a little too 'chill', suddenly very thirsty, completely disoriented and tempted by the nearby river. It was kinda like the drunkest guy at the party deciding it's time to go skinny dipping at 2am, only he weighs two tons and he can't swim. One thing led to another and before we knew it my film crew and I were 1-2-3 heaving on a rope tied around the poor creature's head, bringing it slowly back to a muddy riverbank. Crisis averted: all in a day's work making wildlife television in South Africa.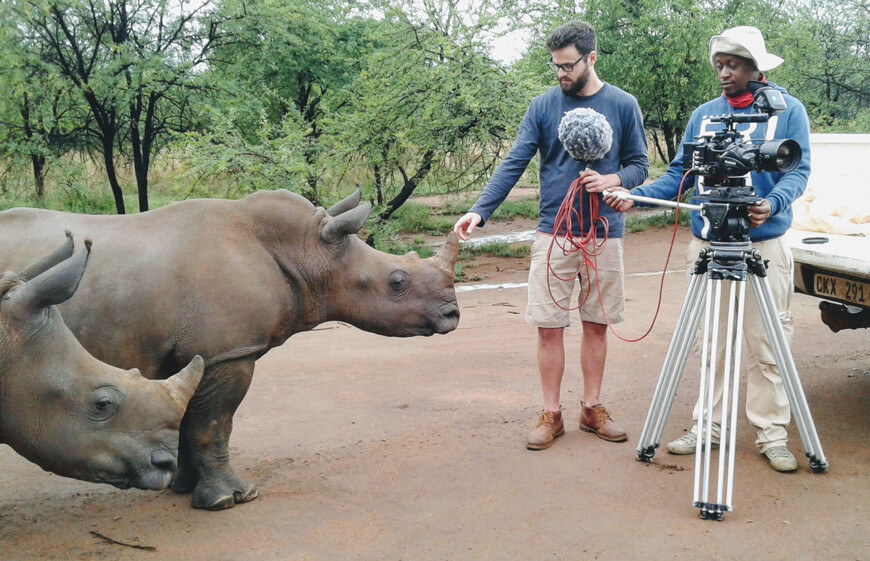 On shoot with rhinos in South Africa. The one that ended up in a river was about 4 times bigger than these pre-teens.
What do you love to do outside of work?
I love snowboarding like a drugged-up rhino loves water. I moved across the world from the incredible beauty of Cape Town so I could find joy and exhilaration in the snowy mountains on a regular basis. I also love the sun and the ocean though, so in the end I settled for a happy compromise of access to all three: Vancouver, BC.

I love that it's not some pretentious glam-o-rama in here; we're just ordinary people doing our jobs and there's no sense that you need to look or 'be' a certain way to fit in or be valued.
What led you to SOLE?
When I first arrived in Vancouver I was looking for writing work in the film/media world. While I searched I worked packing frozen meat portions into cooler bags for one of those recipe-and-ingredients delivery companies that offer a terrible compromise between ordering takeout and being a fully-functional adult. I lasted six weeks before leaving the walk-in cooler for a job painting houses with college students in the beating summer sun. Eventually I applied to be the copywriter at SOLE and I haven't looked back.
What's your favorite thing about working for SOLE/ReCORK?
Working here gives me the opportunity to critically engage with the most important issue of our time. If things keep going as they are, by the time my niece (pictured below) has kids as old as I am now, 'winter' as we know it will only last a week or two a year. I want future generations of my family to feel the same joy I do in the mountains. I'd also like to be able to snowboard until I'm 100 years old (I intend on living to 120 at least). It feels good to be able to play my part in a company that's working to make major changes in an industry, for the sake of the planet and our continued ability to enjoy it.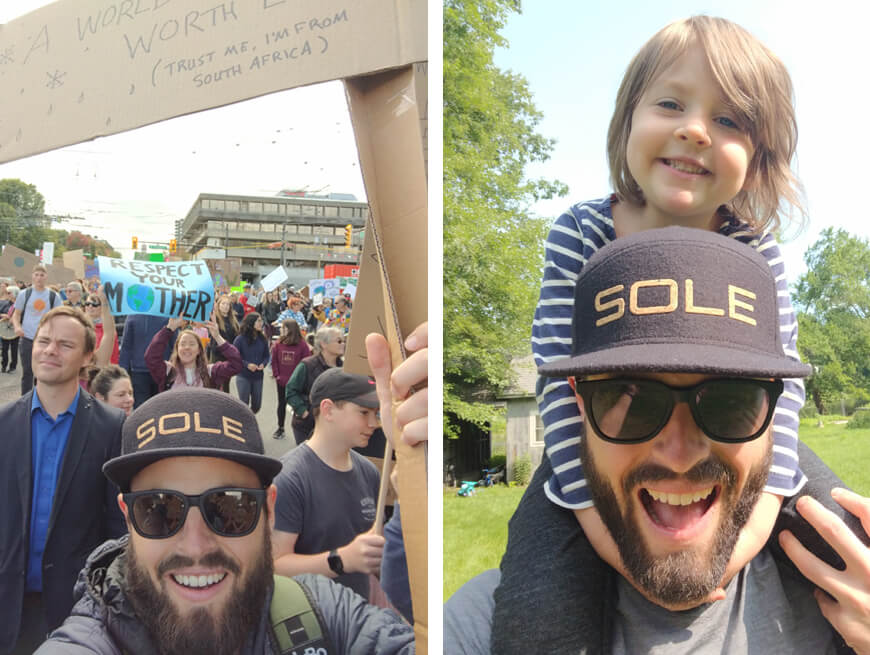 The SOLE team joined the Vancouver edition of the global Climate Strike in September 2019, and Paul has developed a new consideration for the future since the arrival of his Niece, Cora.
What about the SOLE company culture?
I love that it's not some pretentious glam-o-rama in here; we're just ordinary people doing our jobs and there's no sense that you need to look or 'be' a certain way to fit in or be valued.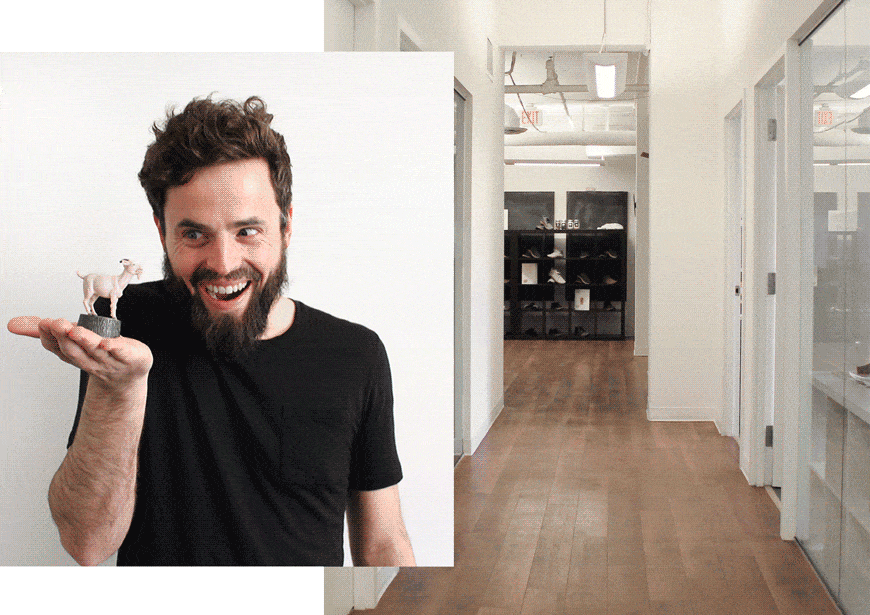 Three hates and three loves.
Hates:
Cucumber and cilantro. You're all wrong, they're disgusting.
People holding the door for me when I'm still a few steps away to 'be nice' when in reality they're indirectly forcing me to hurry up so I don't keep them waiting. I can open it on my own, thanks.
Waiting ages for the bill when I'm finished at a restaurant and ready to leave. I'm satisfied and would very much like to go home immediately, thank you.
Loves:
Fresh tracks between the trees in knee-deep snow early in the morning.
Riding my bike on a warm summer evening toward the steady thump of a sunset drum circle.
That feeling of being up early in the morning, heading to the snow or surf, getting a head start on the rest of the world while all those suckers sleep in.
What's your favorite way to wear SOLE?
I love my Performance Medium footbeds in my running shoes. They've really helped with the knee pain I used to get after longer runs. My SOLE Active Thins have also made a big difference to the comfort of my snowboard boots, and have helped me feel more anchored and better connected to my board.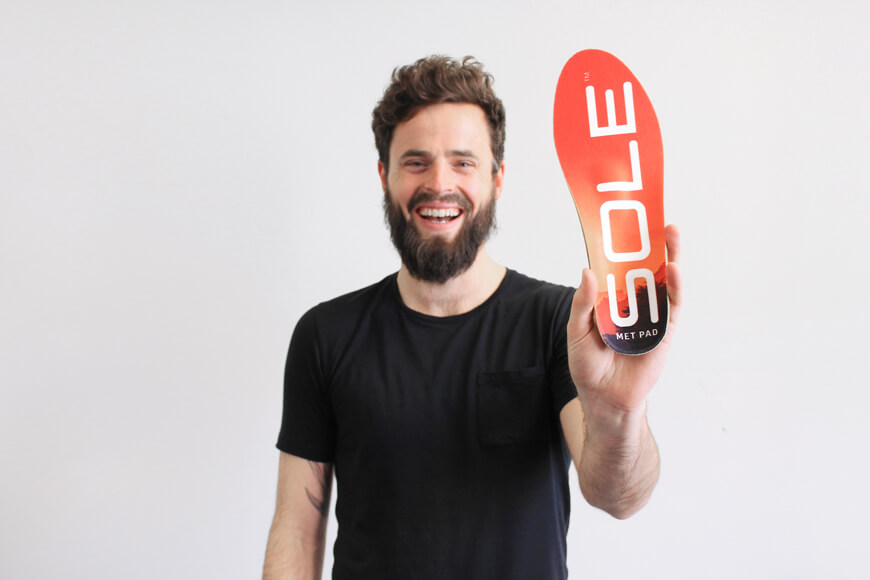 Pick a meme or GIF that best describes you, or that you just love.