Plantar Fasciitis: what causes this painful ailment and how to help yourself recover.
What is Plantar fasciitis?
Plantar fasciitis is one of the most commonly experienced foot afflictions. It's usually felt near the heel of the foot, or the where the arch meets the heel, and it's often worse in the morning or when getting back on your feet after long periods of rest. It might ease up once you get moving initially, but then gradually worsen during the day. If this sounds familiar, you're not alone. As many as 10% of adults experience plantar fasciitis and it's particularly common in older adults, runners and people who work long hours on their feet or carry heavy loads.
Plant a what now?
Like tonsillitis or appendicitis, plantar fasciitis gets its name from the affected area of the body: the plantar fascia ligament. It's a thick band of tissue that spans from your heel to your toes, supporting your foot's natural arch and carrying the load of your regular activity. Repetitive strain and stress on this ligament without proper support can cause damage to the ligament, resulting in the painful condition that affects so many people.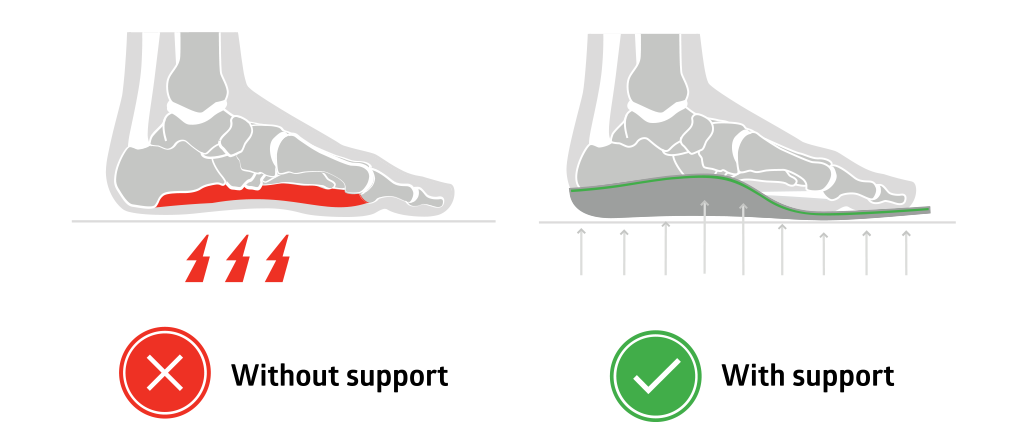 So is there a solution?
Yes! You can greatly reduce the strain on your plantar fascia by wearing supportive insoles. When you have proper arch support underfoot you give your feet the help they need to do their daily work, lightening the load on the plantar fascia and allowing it to recover from the damage caused by excessive strain. Having correct support will also help prevent the onset or recurrence of plantar fasciitis by avoiding excess strain and damage in the first place.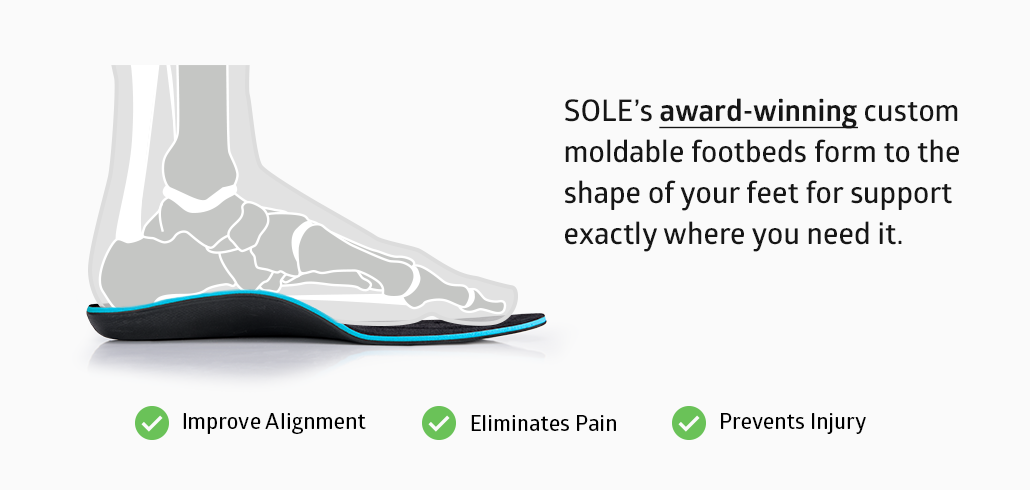 For millions of people the solution is SOLE.
Quite simply, SOLE footbeds lead the field in arch support. Our signature shape is clinically proven to reduce plantar fascia strain by up to 34% and deliver better relief for plantar fasciitis sufferers than any other insole on the market. Our insoles also include a density-mapped design that's been refined over 20 years to ensure that they flex with your foot's movement, acting as a dynamic second-skin that supports your feet without stifling their natural biomechanics. In addition their custom heat/wear moldable design means you get the perfect support for your individual feet, exactly where they need it. The result is supportive insoles that are loved and trusted by millions of happy customers.
Our customers say it best.
"I developed a nasty case of Plantar Fasciitis. I was hobbling around until a friend recommended SOLE footbeds to me. I found a store nearby and was walking pain-free in a few days and running in a couple of weeks. I have a pair for every shoe. I tried custom made insoles and they were clumsy and painful. SOLE insoles felt natural and got me running again." - User testimonial
We have thousands of glowing reviews, read more here.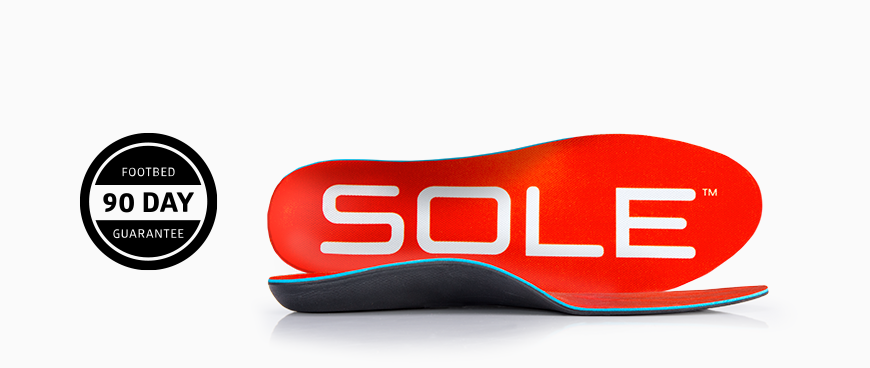 Shop Footbeds
The most effective orthotic insoles... or your money back!
We stand by our product and our customers, that's why we give a 90 day guarantee on all our footbeds. Buy 'em, try 'em, and if you're not satisfied for any reason send them back within 90 days of purchase for an exchange or refund. Get your footbeds today and discover how good your feet can feel, risk-free.
Customize your fit.
One the most important aspects of custom orthotics is to match the shape of the insole to your foot. SOLE's heat/wear moldable orthopedic bases adapt to the exact contours of your feet without compromising the orthopedic shape, providing you custom comfort at an affordable cost. Getting custom-fit footwear has never been easier.
Ready to step into comfort? Find your perfect footbed.
SOLE footbeds come in a range of materials and thicknesses, so there's a perfect footbed for every use and type of footwear. Our footbed finder will help you choose the best footbed for you, so you start your SOLE experience on the right foot.