Flat feet: about this common condition and what to do when it's causing pain.
What are flat feet or fallen arches?
While most people's feet have a moderate raised arch, creating that drawn-in 'waist' in our footprints, some feet are completely flat to the floor. This occurs when the tendons in your feet aren't working together to create the tension required for supporting that arch. Flat feet can have numerous causes such as an abnormality that's present from birth, damaged or torn tendons, health conditions like rheumatoid arthritis or even nerve damage. Many people live painlessly with flat feet, but the condition can lead to multiple complications.
Common ailments associated with flat feet.
Flat feet can hold you back in your day to day life by leading to quick fatigue, aching and painful feet, swelling on the inside of your foot's sole, and alignment issues that have further repercussions throughout the body. Your feet are the foundations of your entire body, and the raised arches in feet play an important role in making sure your body is neutrally aligned to ensure the rest of your body is working at optimum efficiency. Problems with alignment can lead to pain and complications in your ankles, knees, hips and back.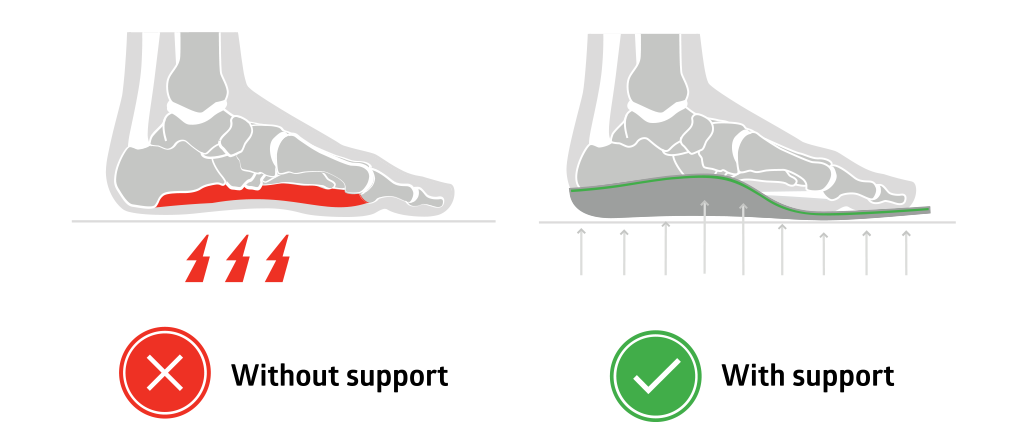 There's a simple solution.
Wearing supportive insoles in your footwear can help replace the work normally done by tendons in feet with in-tact arches. Supportive insoles help promote a healthy distribution of pressure in your feet so you're less prone to aches and pains. Proper underfoot support also helps to correct alignment throughout your body by creating a solid, neutral foundation. While some doctors may prescribe that cost hundreds of dollars, a pair of high quality insoles could achieve the same result at a fraction of the price.
For millions of people the solution is SOLE.
SOLE footbeds have been developed and refined over the span of 20 years to be the industry leaders in supportive insoles. Our signature supportive shape includes density-mapped arch support that flexes with your foot's natural motion to act as a dynamic second skin that gives you all the support you need while being accommodative to your feet. It also includes a deep heel cup to cradle your heel's natural cushioning under the bone and prevent lateral movement that can interfere with neutral alignment. The result is supportive insoles that are loved and trusted by millions of happy customers.
Our customers say it best.
"I have extremely flat feet and pronation, which causes foot pain, knee pain and especially lower back pain. I found SOLE about 5 years ago and have remained a loyal customer because I DON'T LIVE IN PAIN ANYMORE! I simply will not put shoes on my feet without a pair of these footbeds in them." - user testimonial
We have thousands of glowing reviews, read more here.
Shop Footbeds
The most effective insoles... or your money back!
We stand by our product and our customers, that's why we give a 90 day guarantee on all our footbeds. Buy 'em, try 'em, and if you're not satisfied for any reason send them back within 90 days of purchase for an exchange or refund. Get your footbeds today and discover how good your feet can feel, risk-free.
Customize your fit.
One the most important aspects of custom orthotics is to match the shape of the insole to your foot. SOLE's heat/wear moldable orthopedic bases adapt to the exact contours of your feet without compromising the orthopedic shape, providing you custom comfort at an affordable cost. Getting custom-fit footwear has never been easier.
Ready to step into comfort? Find your perfect footbed.
SOLE footbeds come in a range of materials and thicknesses, so there's a perfect footbed for every use and type of footwear. Our footbed finder will help you choose the best footbed for you, so you start your SOLE experience on the right foot.