Shin splints: causes, symptoms and how insoles can help.
Proper underfoot support can help recover from this common runner's condition.
What are shin splints?
Shin splints is the common name for pain that occurs along the inside of the shins and gets gradually worse lower down the shin. Its official name is medial tibial stress syndrome, pointing to the stress inflicted on the tibia - your shin bone. Wearing supportive insoles can help hugely in reducing pain and aiding recovery from shin splints.
Shin splints are caused by an ankle-stabilizing muscle called the tibialis posterior gradually ripping away from the shin bone (ouch). If not treated over time, the condition can lead to small fractures along the shin bone itself. Shin splints are a common issue for runners thanks to the repeated strain experienced by the lower legs.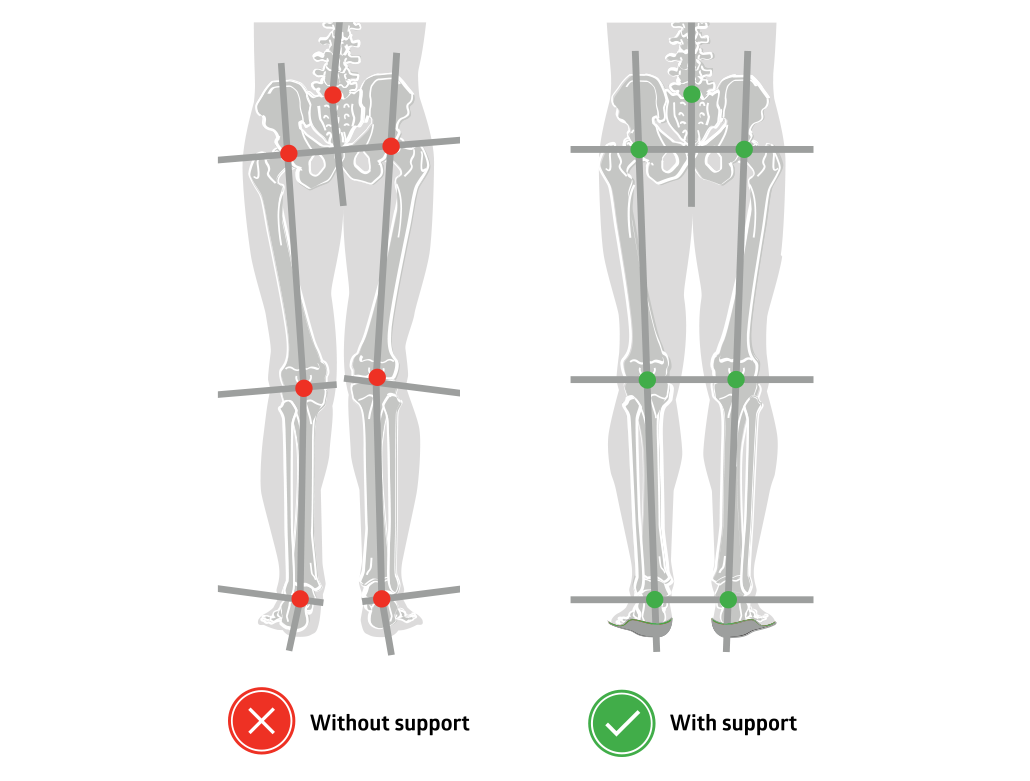 Supportive insoles ensure neutral alignment to help shin splints
Supportive insoles ensure neutral alignment to help shin splints
Supportive insoles for shin splints.
Supportive insoles help cure shin splints by ensuring that your feet and legs are working in proper alignment. This prevents issues that place excess stress on your ankle stabilizing muscles, allowing shin splints to heal.
The combination of a supportive arch and a deep heel cup also helps to ensure that feet move from a stable base. This helps each of the lower leg's complicated mechanisms to carry the strain of exercise.
An orthopedic insole can provide the support needed to recover and get back to running and exercising pain-free. In addition to wearing supportive insoles, exercises like calf raises can be helpful in strengthening the necessary muscles to heal shin splints.
Popular footbeds for people with shin splints.
SOLE footbeds give relief from shin splints.
SOLE custom moldable footbeds have been refined over the span of nearly 20 years to lead the field in supportive insoles. Every footbed includes the SOLE signature shape with its supportive arch and deep heel cup.
Our insoles also include a unique density-mapped design that flexes with your foot's movement, acting as a dynamic second-skin that supports your feet without stifling their natural biomechanics.
SOLE footbeds custom heat/wear moldable design means you get the perfect support for your individual feet, exactly where they need it. The result is supportive insoles that are loved and trusted by millions of happy customers.
Insoles for shin splints reviews:
"I'm a football referee and I used to get terrible shin splints. During a game one of the athletic trainers could see that I was hobbling a bit and was in pain so he asked what the problem was, after explaining how I get very painful shin splints he told me about SOLE inserts. I got my first pair 2 years ago, which I still use to this day, and haven't had even a hint of shin splints since. My SOLE footbeds have also dramatically improved my lower back pain. I can't rave enough about these insoles. I love them and will NEVER be without them again. Thank you SOLE!" - user testimonial.
We have thousands of glowing reviews, read more here.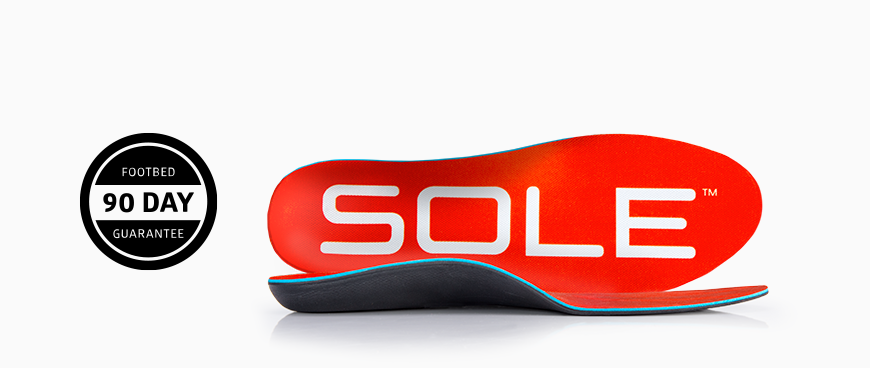 SHOP FOOTBEDS
SOLE footbeds come with a 90 day satisfaction guarantee.
SHOP FOOTBEDS
SOLE footbeds come with a 90 day satisfaction guarantee.
The most effective footbeds for shin splints, or your money back!
We stand by our product and our customers, that's why we give a 90 day guarantee on all our footbeds. Buy 'em, try 'em, and if you're not satisfied for any reason send them back within 90 days of purchase for an exchange or refund. Get your footbeds today and discover how good your feet can feel, risk-free.
Custom moldable supportive insoles.
One the most important aspects of custom orthotics is to match the shape of the insole to your foot. SOLE's heat/wear moldable orthopedic bases adapt to the exact contours of your feet without compromising the orthopedic shape, providing you custom comfort at an affordable cost. All you need is your oven at home to heat mold the footbeds. Getting custom-fit footwear has never been easier.
Ready to step into comfort? Find your perfect footbed.
SOLE footbeds come in a range of materials and thicknesses, so there's a perfect footbed for every use and type of footwear. Our footbed finder will help you choose the best footbed for you, so you start your SOLE experience on the right foot.