SOLE Wide footbeds: supportive insoles for natural splay footwear.
SOLE's wide insoles are the perfect addition to your wide or natural-splay shoes.
We've got our finger on the footwear pulse.
And right now hearts are beating for shoes with a wider toe box. Wearing wider shoes allows toes the space they need to spread naturally, known as 'natural splay'. For centuries, conventionally designed shoes have sacrificed comfort and functionality by squeezing toes into confined spaces for the sake of style. But times are changing and taking care of your body is cooler than it has ever been. Brands like Altra, Vivobarefoot, Xero Shoes and Lems produce shoes that cater specifically to people looking for footwear that allows the foot's natural splay, giving barefoot-level comfort while still protecting feet from the elements. There's even a silicone toe spreader, on the market to help toes recover from years of confinement. As foot health is at the core of what we do at SOLE, we've released footbeds to match this new development in footwear design. SOLE's Active Wide footbeds and Performance Wide footbeds have the SOLE signature shape to offer the dynamic, customizable orthopedic support we're known for, now with a wider toe box to fit seamlessly with wide and natural splay footwear.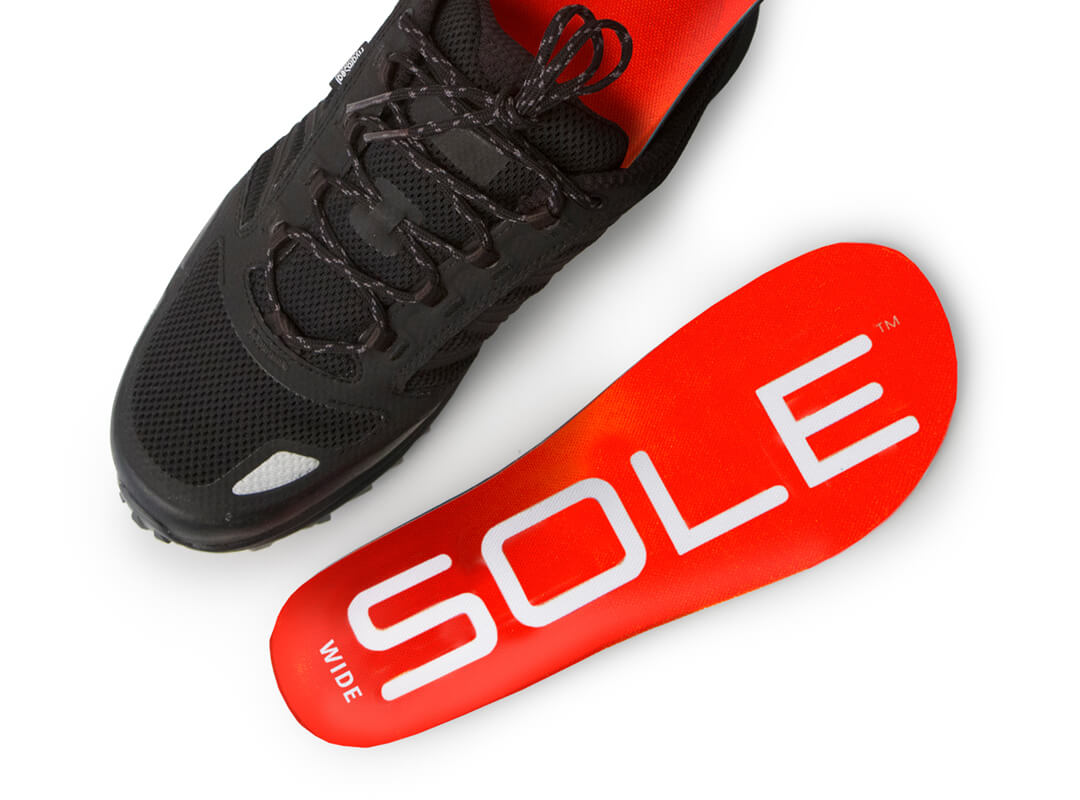 Times are changing and taking care of your body is cooler than it has ever been.
Like all of our Active series footbeds, the Active Wide are made from density-mapped EVA, and available in three volumes of cushioning foam: Thin, Medium and Thick, so there's a SOLE Active Wide footbed to fit every shoe. They're also wear/heat moldable for a customized fit that supports your foot right where it needs it most.
Our Performance Wide are made from carbon-negative recycled wine corks, gathered and recycled by our cork recycling program ReCORK. They offer all the same support as the Active series, with slightly superior insulation, particularly good custom molding to your feet and and the benefits of being incredibly eco-friendly. For now they're available in the Medium thickness, with with thin and thick to follow soon.
Are SOLE footbeds compatible with the other priorities of natural foot mechanics?
Having more space for your toes isn't the only concern when it comes to promoting the foot's natural mechanics. Two other priorities are a zero drop design, with the heel at the same height as the toe, and flexible, shank-free soles to allow for the foot's natural flex. Some might question if using SOLE footbeds will defeat the purpose of natural splay footwear. The answer is simple: no it won't.

While zero drop has become a recent 'buzz word' in the industry, we've been making our footbeds that way for the last 18 years. It's been part of the SOLE design from the beginning, and that's not going to change anytime soon. Our flexible, customizable, dynamic arch support is achieved without the use of a rigid shank in our footbeds, allowing for the foot's natural flex while still reducing plantar fascia strain by up to a third. A clinical study by the Running Injury Clinic has proven SOLE footbeds to interfere with natural foot dynamics less than any other brand, while still offering more support than the competition. In short, if you're looking for some extra support from wide insoles in your natural splay shoes, SOLE's Active Wide or Performance Wide footbeds are the best choice.