BCM Girls Adult Mentorship 7 Day Expedition Trip log.
A day-by-day guide to a week in the woods as a volunteer youth mentor.
What does a seven day mentoring trip in the wilderness with Big City Mountaineers entail? On a beautiful, challenging, inspiring week this summer, I found out alongside my colleagues Karla Peckett and Shanon Hofer (read more about the trip here).
As a person who connects more with words and people than the outdoors, it was important to me to record our experiences as they happened. I arrived on this trip with an open mind and an open heart. It's amazing what you can feel and experience when you strip away labels like "not outdoorsy". One of the many things I learned was to love being outside again. I really enjoyed the camp life, so I've shared some of the details of the trip below. At the end of each day, I've included a reflection about our growth as a group.
Day 1.
Wednesday, July 30, 2019
8 am. Meet at the Boys & Girls Club in Bellevue. Go over mission statement, play some name games, sort gear. Pack 60lbs in each bag. Drive up to front country campsite with lunch at the ranger station.
Notes: Ride up the hill was very bumpy! We were lucky enough to spot a bear cub from the safety of the van.
4pm. Set up camp. Lesson on how to treat water.
Reflection time. Journal prompt: "What would you like to get out of this trip? What fears do you have about this trip?"
Make supper in camp kitchen. Lesson on "sleeping comfy". Create our group flag.
9pm. Camp fire with s'mores!
Notes: Staff meeting around the fire after youth go to bed. Sharing about relationships at home and our collective strength and goals to support the youth.
Day 1 reflection:
Our group is brand new! There are some pre-existing connections, but we're all still getting to know one another. Lots of hope and tentative trust being built.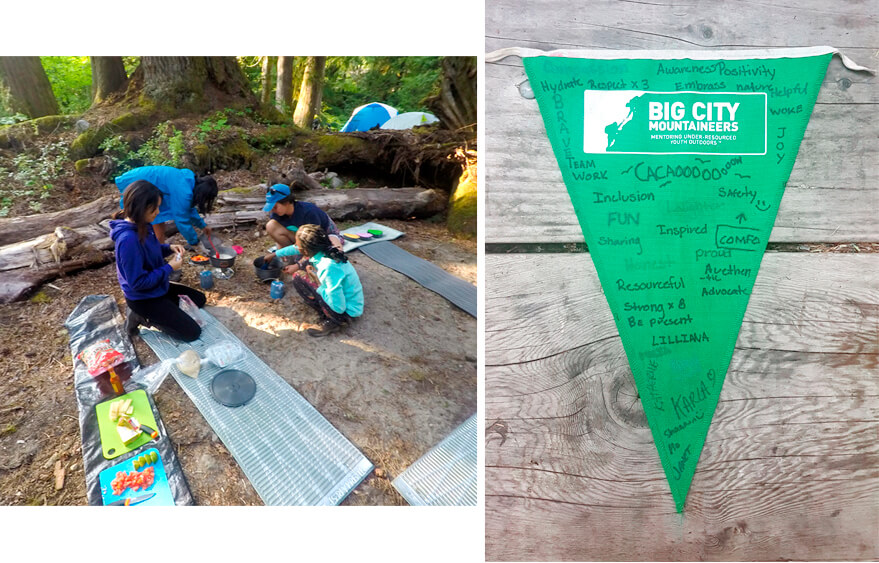 DAY 2.
Thursday, July 31, 2019
7am. Rise & Shine! Coffee and breakfast. Lesson on how to pack a backpack. Split up group gear into everyone's bags. Assign leadership roles to the youth and volunteers - Navigator, Educator, "Water bender", Cook, Sweep, and "Camp Captain".
10 am. Leave front country camp. Hike until lunch with frequent water breaks. Lesson at snack break on Leave No Trace principles.
Notes: Bags were heavy but we made a great start!
12pm. Lunch in the meadow clearing. Games and conversation. Lesson on "poopin' in the woods"!
1pm. Back on the trail. Steeper hike after lunch. "Get to know you" exercise - everyone does an interview of someone else during the hike. Water crossing - slow moving, mid-calf depth. Switched to water shoes to keep hiking boots dry.
6pm. Set up camp and cooked supper.
8pm. Early to bed after a long and tiring day!
Day 2 reflection:
Our group is tired! This was a tough day and though we are all exhausted, we are proud of what we've accomplished. The walls are starting to come down as we struggle together. Spending this much continuous time together builds bonds very quickly.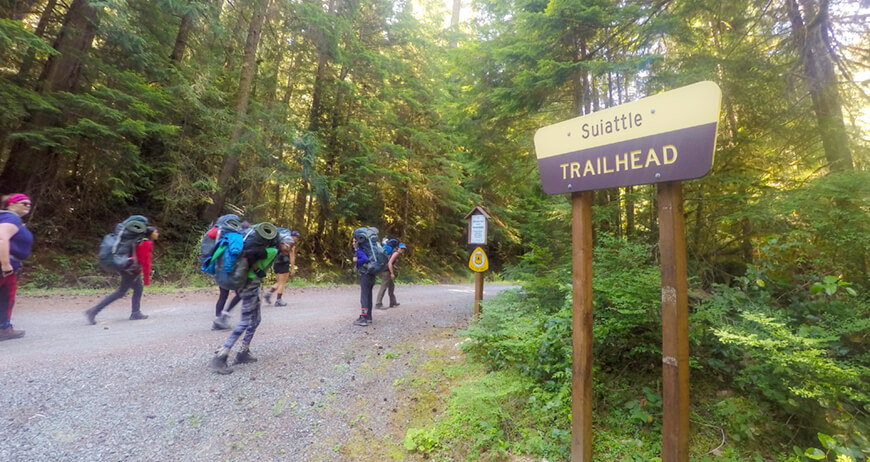 DAY 3.
Friday, Aug 1, 2019
7am. Rise & Shine!
Early morning staff meeting. Emotional time of sharing and supporting one another. Deep bonds already forming between the whole group. Breakfast and stretching.
10 am. Depart camp. Hike at a slower pace. Checking in with each other and supporting one another. Shorter day with lots of inclines. Joined up with the famous Pacific Crest Trail for the rest of the day.
3pm. Make camp at a large site where we could spread out. Journal prompt: "Share about a time of transition in your life."
Special activity: Watercolor painting on mini-canvases!
5pm. Supper - pesto pasta! Lots of time to hang out and bond.
8pm. Camp fire.
Day 3 Reflection:
Great friendships and bonds are solidifying. Our group is very comfortable with one another. Fantastic time of sharing during the camp fire.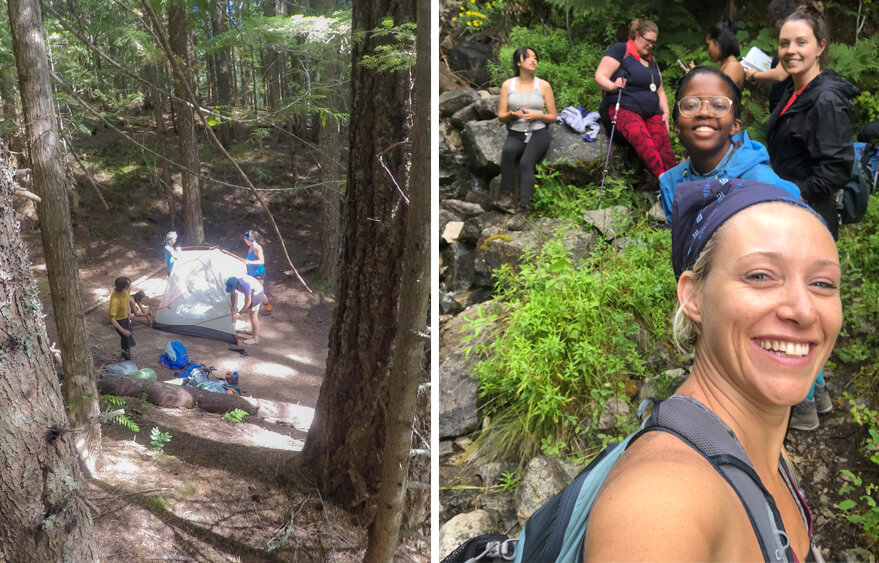 DAY 4.
Saturday, Aug 2, 2019
7am. Rise and… rain! Rain through breakfast, clear skies by 9:30.
Today is Challenge Day. We tidy up camp but leave it set up. Big backpacks stay behind. Take only day packs with water and snacks.
10am. Start on steep trail up to Miner's Ride. Slow and steady pace up a series of switch-backs. Frequent stops for water and snacks. Each view of Glacier Peak is better than the last as we rise up the incline. We take our time, admire the views, and enjoy one another's company.
2pm. Lunch at the Image Lake trail intersection. We've done it! 2000 ft of elevation gain. Special "High/Low" treat after lunch.
Journal prompt: "Write about something hard-earned that you are proud of."
4pm. Start back to camp. Descent is much easier and quicker. Lots of laughing and singing!
6pm. Arrive back at camp. Cook supper - mac & cheese
A ball of "Old Man's Beard" kindling that was gathered on the way down the trail is turned into a new friend named Harold! His appearance in our campsite was the source of a lot of fun and laughter.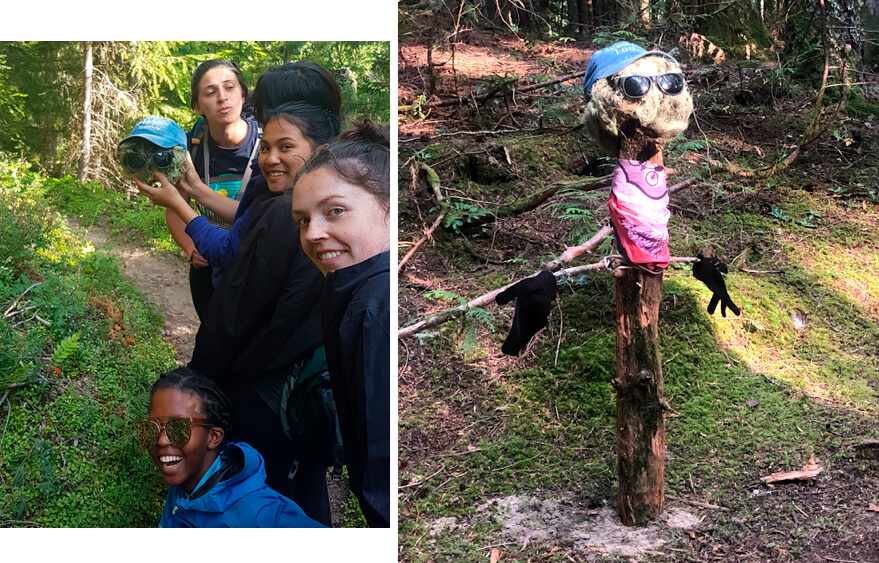 8pm. Camp fire. Lots of fun and laughter. Less intense, but still great time of sharing and openness.
10pm. Bed time.
Day 4 Reflection:
Accomplishing our goals during "challenge day" has made everyone joyful. All barriers and walls are down as we've struggled together and laughed together. Real friendships have blossomed as we joke with one another, create inside jokes, and share our thoughts and feelings more openly. As mentors, we've been building to this point, where there is mutual trust and sharing.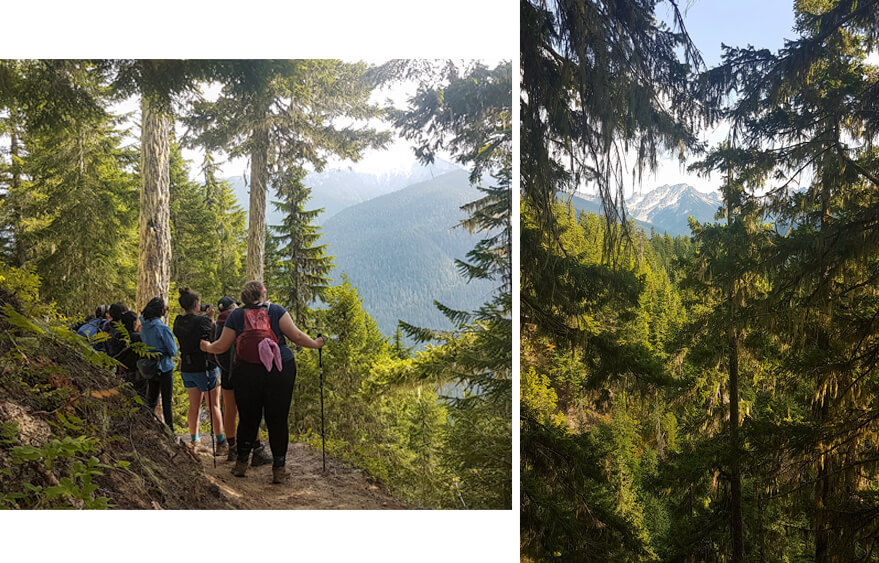 DAY 5.
Sunday, Aug 3, 2019
7am. Rise & Shine! Breakfast, stretching, and camp tear down.
10:30am. Depart camp. Quick hike to the suspension bridge. Some hills, but net elevation loss.
12:30pm. Arrive at camp.
Notes: Such a treat to arrive at camp so early in the day. It was a spacious and luxurious campsite with a fireside "couch"! Camp set up went quickly as the youth were eager to get down to the stream and dip! We filled the afternoon with dipping in a slow-moving part of the stream, hanging out, journalling, playing games and hanging out with each other.
Journal prompt: "What have you learned about yourself?"
5pm. Supper time.
8pm. Camp fire and improv games -- So much fun!
Day 5 Reflection:
When a group comes together like this, there is so much laughter and joy in being together. We have gelled completely and are sad to think that we have only a few nights left.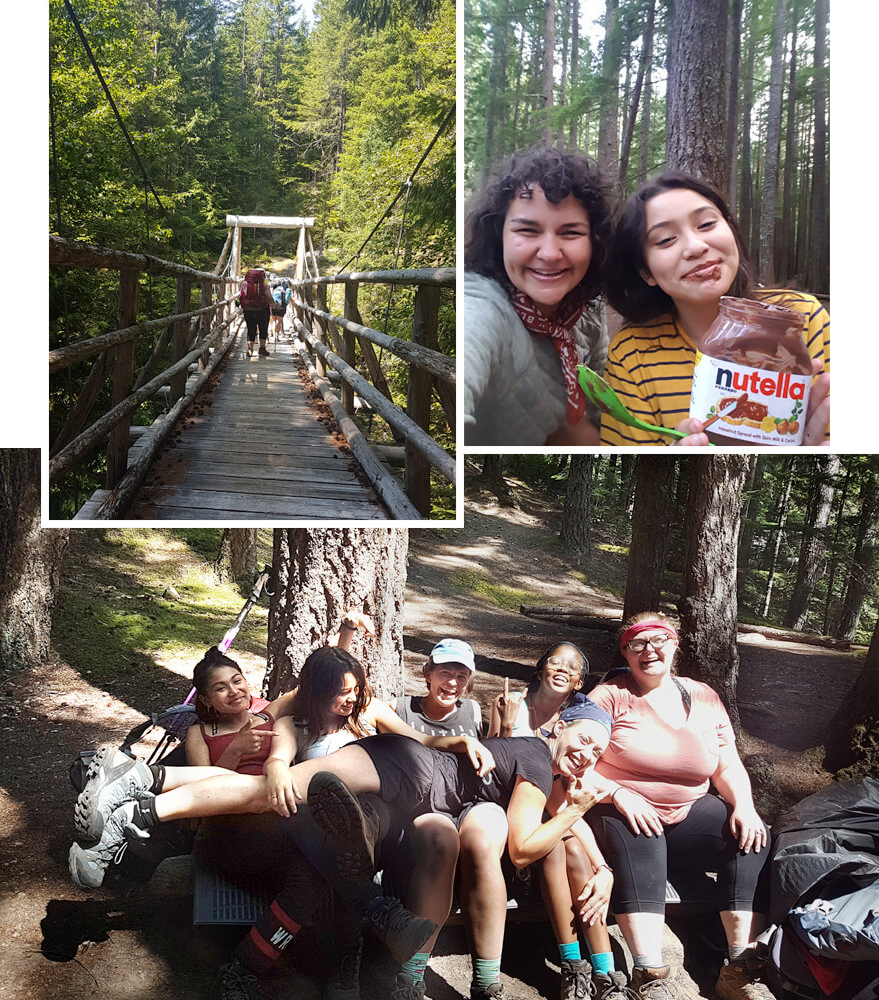 DAY 6.
Monday, Aug 4, 2019
7am. Rise & Shine! Quickest camp tear down ever.
9:30am. Depart from Camp Couch / "The Mansion in the Woods" Slow and steady hike back to the Day 2 lunch spot. Spirits are high as we've accomplished so much together.
12pm. Lunch in the meadow clearing. We're in the home stretch. Everyone is eager to get back to our front country camp site and enjoy a special supper together.
3pm. Arrive at front country camp site. Set up camp and fill water bottles.
5pm. Spaghetti supper celebration! Sort out gear, wipe down tents, prep for early pickup the next day.
Journal prompt: "What are you grateful for?"
8pm. Camp fire. Each member of the group gets their own flag. Youth design the flags for adults, and adults for each youth. A great time to celebrate everyone's contributions to the group.
10pm. Bed time - last night in the woods!
Day 6 Reflection:
The focus has shifted to what waits for us when we go home. How are we different? Major takeaways include strength, determination, love of the outdoors, and the importance of friendships with those around you. It's awesome to see tangible personal growth in every person on the trip.
DAY 7.
Tuesday, Aug 5, 2019
6am. Rise & Shine! Van arrives bright and early to take us all back home.
8am. Stop for breakfast at a local grocery store.
12pm. Arrive back to Boys & Girls Club in Bellevue for photos and farewells.
Day 7 Reflection:
What an amazing journey! It is an incredible experience no matter what age you are, and such a joy to share it with young people grappling with things like identity and purpose. As on the hike, simply doing life alongside one another is edifying to each member of the group as we encouraged and supported one another. We receive back as much as we give on an adventure like this. Here's to many more!